Spax screws are helping professional contractors and do it yourself carpenters get the job done faster and easier than ever before. As a division of Altenloh, Brinck & Company, the makers of these screws have nearly a century of experience in the fastener industry. The Spax brand combines world-class German engineering, high-quality American manufacturing and innovative patented designs to create a fastener that no other company can touch.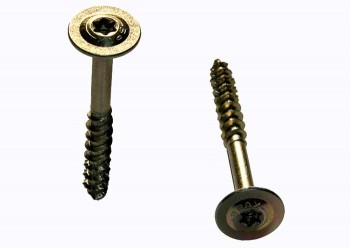 Screw Designs
The Spax screws selection includes models designed specifically for nearly any project you can come up with. In fact, you can consider it as a one stop shop for all your fastening and adjoining needs. Common screw designs include:
Spax Construction Screws: These screws are designed for optimal performance in a variety of materials for maximum flexibility, lower costs and outstanding performance.
Spax Lag Screws: The PowerLags series of screws offer outstanding fastening power, power bit engagement and all the benefits of the patented design to ensure you can get the job done fast and enjoy the results for years to come.
Spax Deck Screws: These stainless steel screws are specially designed to prevent the screw from backing out as the wood cures. This means faster construction and a squeak and flex free finished product every time.
Spax MDF Screws: The patented cut tip design on these screws reduces stress on the MDF to prevent cracking and splitting while providing outstanding grip and easy driving. Whether you are building cabinets or speaker enclosures, these screws set the bar for quality in the fastener industry.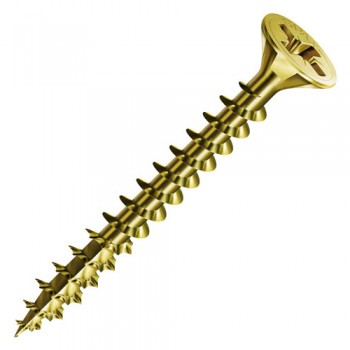 Features Of The Spax Screws
What sets Spax screws apart from the competition is the patented design used on the screw. This design has given them the edge among other competitors. Their reputation and good name depends on this very feature that the company is very proud of. Features of the Spax fastener line up include:
Patented serrated thread design: German engineers perfected this technology. By serrating the edge of the lower portion of threads, you can drive the screws easily without the need for pre-drilling. This technology helps to reduce the needed driving torque by up to 40 percent, depending on the materials and screw used. Best of all, these technologies help reduce cracking and splitting of logs and wood significantly.
Proprietary corrosion-resistant coating: This coating ensures the fasteners will last longer than competitor's screws. This same coating helps to prevent discoloration of materials in moist environments.
Fastener Identification Stamps: Stamps are included on every head for easy identification on the job site. This makes inspections and re-ordering supplies a breeze.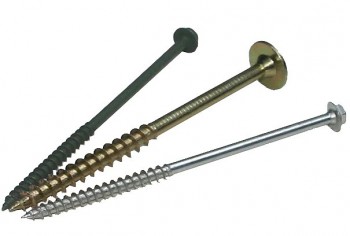 Useful Tips
With the proper tools and fastener choice, screws can make your next project faster, easier and more efficient. This is a simple guide that can go a long way. Following these tips will help you reap the benefits to their fullest:
Choose the appropriate screw for the job. With so many specialized fasteners available, taking the time to choose the ideal screws for your next project is simple. Each screw comes in a variety of heads, lengths and threading to make a perfect fit to your job.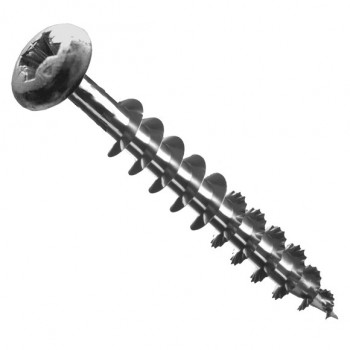 Choose the appropriate head. Hex and T-star heads provide outstanding torque and grip for those heavy-duty projects. Universal Square and Posi heads provide improved grip and performance versus conventional screws when working on smaller projects.
With Spax screws you're assured that every project will be accomplished in a breeze. Cabinets Direct only uses the best screws for their products and this screw is in their short list. You are rest assured that your kitchen and living room cabinets will last for years and stay durable, making your investment worth every penny.