Black kitchen cabinets have in the recent years emerged as one of the popular kitchen renovation options for most homeowners. A kitchen with black cabinets can effortlessly turn almost all kitchen décor, rich and exotic. As most people might be aware of, the kitchen happens to be an indispensable component of all homes, and it is only right to enhance its comeliness and functionality.
Is It Worth Investing?
Some homeowners might balk at the amount of money that can be needed to do this, but apart from enhancing a home's aesthetic value, it can also be a wise investment that can significantly appreciate its overall value. On the other hand, most well-informed homeowners, recognize the importance of having a fully functional kitchen that integrates an attractive style into a home's interior décor. One excellent way of doing this is by installing black kitchen cabinets, which can effortlessly give a kitchen an aesthetically pleasing and flattering look. Most individuals that contemplate making kitchen renovations are usually at a loss of what to do. Which can largely be attributed to the plethora of kitchen cabinets solutions in the home improvement market. Therefore, it infinitely pays to do a comprehensive research after ascertaining just what features you want for your kitchen cabinets.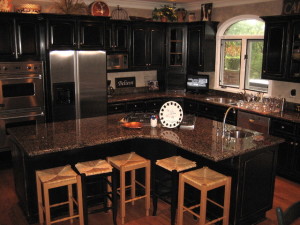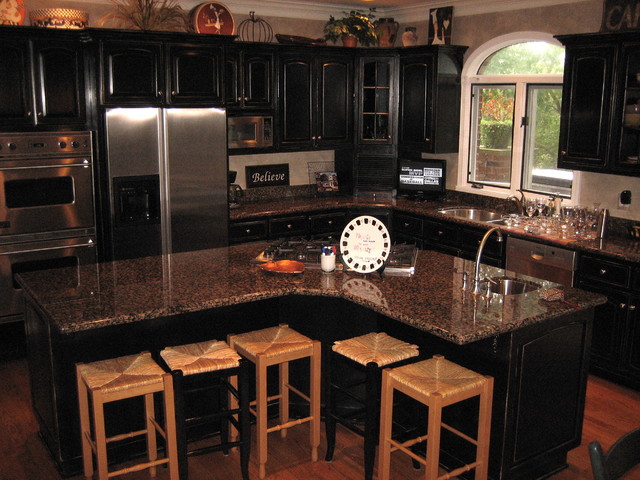 It can also be extremely prudent to determine just how much money you can spare to effect the desired change to your kitchen. As impeachable findings show, most kitchen makeovers usually retain approximately 70% of their initial value, when most homes are likely to be sold. It is imperative not to overdo such a project by installing unnecessary features that can compromise not only a kitchen's functionality, but also its beauty.
For the most part, black kitchen cabinets ideas are usually limited to 3 main options, which can be distinctly identified by the quality of craftsmanship incorporated into making these invaluable kitchen ware. And of course the type of raw materials utilized in crafting them.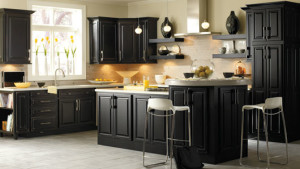 Basic Kitchen Cabinets
Otherwise known as stock cabinets, these kitchen cabinets are ideal for homeowners that might be on a tight budget or for those that wish to make minimal alterations in their kitchens. Basic kitchen cabinets are normally pre-assembled, and always feature a simplistic frameless craftsmanship. Due to this distinct attribute, obtaining the right fit to renovate a particular kitchen can necessitate a lot of accuracy, most especially in its exact measurements. 
Over the few years that have gone by, basic kitchen cabinet makers have began to utilize solid wood doors and even pull-out drawers that are normally the reserve of fancier makes. In a nutshell, despite possessing subdued attributes, these fixtures can effortlessly enhance a kitchen's functionality. Not to mention their unmatched affordability.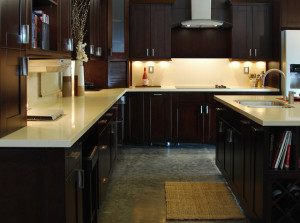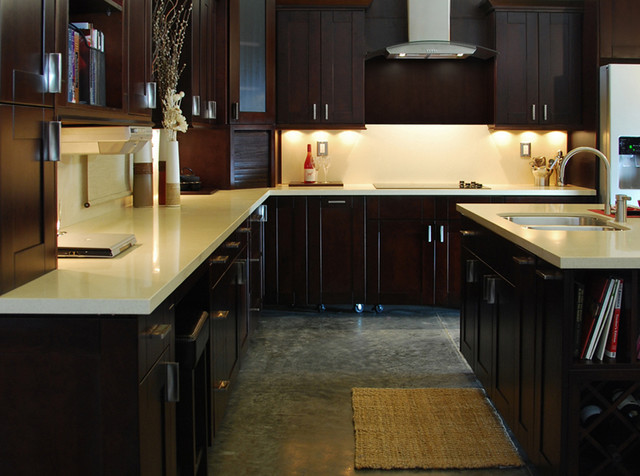 Mid-level Kitchen Cabinets
These black kitchen cabinets offer a delightful versatility in permitting homeowners to customize them according to their distinct functionality requirements, and also their personal preferences such as the color scheme you wish to integrate. One particularly excellent and popular kitchen cabinet color scheme is the distressed black kitchen cabinets, which can look particularly stunning in almost all kitchen décor. And are unmatched in integrating a rustic and conventional appearance to a kitchen's aesthetics. 
In contrast to basic kitchen cabinets, these ones feature frame construction, which naturally, accentuates the wood around the doors. What's more, mid-level kitchen cabinets can be custom made to any dimensions, and also feature diverse accessories. 
Premium Kitchen Cabinets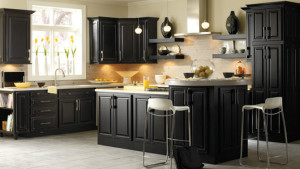 Premium kitchen cabinets happen to be an especially ideal option for homeowners that might want to carry out a complete overhaul of their kitchen's design or perhaps want to augment their storage capabilities. As a norm, all quality premium kitchen cabinets are crafted from plywood, which offers various advantages than other materials such as strength, incorporates a more realistic finish, among others. The beauty of these cabinets is further enhanced by the integration of high quality hardware such as knobs or even handles. Additionally, homeowners can choose from a wide range of additional features like appropriate cabinet boxes or even deep drawers for storing bulky crockery and other kitchen implements. 
Cabinets direct happens to be one of the foremost kitchen cabinets makers, and have the prerequisite experience and expertise in the making of these invaluable wares to meet all your specifications. There are many other elements to talk about but this is an insight in this regard.