The Different Staples of Oak Cabinets
Are you planning to design a kitchen? Or are you going to give your old one an updated look? Either way, cabinets are your key to make a great impression. With so many styles to choose from, oak cabinets are capable of brightening the overall look of your kitchen.
Advantages of oak kitchen cabinets
There are people who assume that oak cabinets really work only for traditional or country style kitchens. Sure they look fine in those kinds of kitchens, but they can actually blend well in just about any décor style of your choice. It is really easy to alter the look of your kitchen through the use of different hardware and door frames styles available for oak type cabinets. Apart from that, here are four more notable qualities of oak: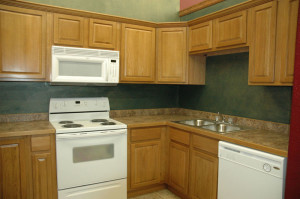 Oak wood is attractive, mainly due to its fine grain. No matter what kind of stain you apply to it, the grain will remain visible to the eye – a great advantage.
Oak wood is purely solid with density much greater compared to other woods. That basically means oak cabinets have high life spans. This is very important in the kitchen setting because of the extreme conditions the cabinets are exposed to such as steam, water and a couple others that can lead to damages.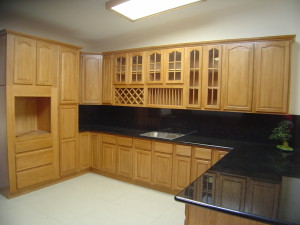 While oak is cheaper than other woods, oak made cabinets can be resold in higher values because of their strong demand in today's market. In that sense, oak as cabinets make great investment entities.
For a modern kitchen
What are in these days are the sleek oak kitchen cabinets that do not have knobs or handles. This provides the kitchen with a sleek and clean look befitting gorgeously with contemporary decors. If you seek a rather traditional look, then pick your bet among cabinets with differently styled doors.
Two types of oak made cabinets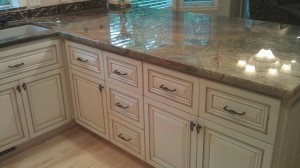 There are two construction styles available for these cabinets: framed and full access. The full access cabinets come with ample inner space, big rollout shelves, as well as larger drawers. The hinges of the doors are completely hidden, overlaying the cabinet, which gives the cabinet an unbroken charming appearance. On the other hand, the framed type is considered traditional. A frontal frame is applied on the cabinet box, with it being visible in the middle of the doors.
Unfinished oak cabinets
What better ways can you make a unique and distinctive kitchen other than being able to express yourself? On that note, unfinished oak kitchen cabinets, especially from Cabinets Direct, surely do the trick. Here are three reasons why:
Oak has a light color enabling you to gain control of the stain's darkness.
Oak, being an economic choice, can be stained to look like more expensive choices such as cherry and mahogany wood.
Unlike other wood types, oak can be glazed with almost any color and finished with medium, frost and natural finishes.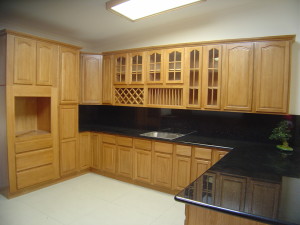 Simply put, oak is a versatile type of wood, perfect for any furniture item including kitchen cabinets.
Final words on staining oak cabinets
After knowing the kind of oak cabinet you want to put up into the kitchen, you should then be ready to determine the right paint color to the kitchen walls. But before then, staining your oak cabinets with an invitingly warm color can brighten up other elements in the kitchen. Top three choice color shadings would be orange, red and yellow. As per other expert decorators, a yellow-based green, terracotta reds and cork inspired yellows are recommended for a much prestigious ambiance. As a tip to finding the best color for you, you need to do a bit of double checking by getting samples of the paint first and seeing how they are when dried.