Wood Kitchen Cabinets
Wood kitchen cabinets are currently among the most preferred cabinets. This can be attributed to the fact that they are less expensive as the buyer can save up to 70% of the total cost. In addition, most of the middlemen are cut out as the clients are able to make an order directly without involving a third party. They are therefore guaranteed of high quality and affordable products. Unlike other types of cabinets, wood kitchen cabinets are relatively easier to assemble and install. They can also be customized as per the needs of the client. Some of the custom options include;
With these types of cabinets, the buyer is usually presented with different finishes to choose from. This makes it easier for anyone to choose the design that matches his/her kitchen. It is also possible to purchase the ready to assemble or the already assembled cabinets. Once the order is placed the cabinets are delivered within a very short time. This makes it easier for the contractors, builders and remodeling companies to carry out their operations.
The cabinets are characterized by a solid face frame, drawers, doors, and plywood boxes with a reliable and stylish finish. This makes the kitchen to look like a custom crafted masterpiece. If the buyer is not conversant with the different layouts and designs, he/she can be assisted. They are the best and most convenient cabinets for adding storage space or replacing outdated cabinetry.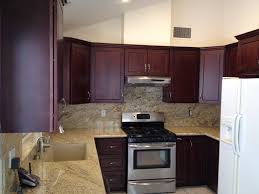 Solid Wood Kitchen Cabinets
Solid wood kitchen cabinets are made of an exceptionally strong material that makes them to last longer than those made of engineered wood. Unlike the engineered wood products which are made by binding together wood strands, veneers and fibers with adhesives, solid wood does not have hollow spaces. Some of the engineered wood includes plywood, oriented strand board and fiber board.
Advantages
The cabinets that are made of solid wood appear more attractive than fiberboard which may be enhanced by veneer or other overlays like vinyl or Formica. 

Solid wood is also stronger than fiberboard. Unlike other engineered woods, it does not disintegrate when it gets wet.
Disadvantage
Solid wood as a material for making kitchen cabinets has its own disadvantages, which include the following;
It is expensive; unlike the engineered wood which can be made from wood chips or sawdust, solid wood requires a large section of wood that does not have defects.

Solid wood is heavier and this makes it hard to move the cabinet.
Cherry Wood Kitchen Cabinets
Cherry wood has a long and distinguished history in fine cabinetry due to its superior woodworking qualities. Some of the unique characteristics of cherry wood kitchen cabinets include the following;
Color: It has a rich reddish-brown color which tends to darken with age or when exposed to sunlight.

Grain: The wood is smooth, straight-grained, and shiny. This makes the cabinet attractive.

It is light, strong and durable. These characteristics make it suitable for making kitchen cabinets as such cabinets are easily portable and long lasting.
Dark wood Kitchen Cabinets
Dark wood kitchen cabinets add elegance to the kitchen, giving it a different look and hue. There are a variety of dark wood types which come in different shades of brown. A good example is ebony, which is incredibly dark. The other dark wood choices include hickory, mahogany and walnut. The different types vary significantly in price as some are rarer and hence more expensive than others. In some cases, lighter wood may be darkened by staining. The stain is usually applied on the wood using a brush just like normal paint. Various coats may be applied so as to achieve the desired results. The stain also tends to protect the cabinet from aging and weathering.
Since dark colors tend to visually shrink a room, dark wood cabinets are suitable for dark large or medium sized kitchens with sufficient lighting. These kinds of cabinets require frequent cleaning as dust tends to stand out visually on a darker surface.
Cabinets direct, has a collection of wood kitchen cabinets that are suitable for any kitchen and can be customized as per the needs of the client. Here one can find high quality and affordable cabinets.