Building your house will require some serious planning especially if you are also planning to spend the rest of your life living in one house. The kitchen is the place of the home that needs special and careful planning because it is the most used area of the house. Rustic kitchen cabinets are beautiful additions for any kitchen. It resembles a classic elegance and sturdy organization of cabinets and cupboards.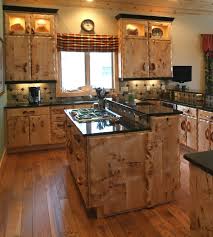 Rustic kitchen design ideas are popular in the early days from the 18th century. Modern kitchen designs have also evolved with more options for wood panels used in furniture and cabinetry while in addition technology has made more wood colors to match the elusive taste of color and style of modern homemakers.
Kitchen Cabinet Wood Types
Different wood types are used to make rustic kitchen cabinets. Each type of wood has a unique effect on its appearance. Here are some of the woods used to make beautiful kitchen cabinet ensemble.
Hickory Wood
This type of wood is one of the hardest, strongest and heaviest woods available to make gorgeous rustic hickory kitchen cabinets. This wood has natural streaks that create one of a kind accent and prominent colors to your cabinetry. You can choose from light cream to dark red brown to as dark as black which can also be altered using natural light stains.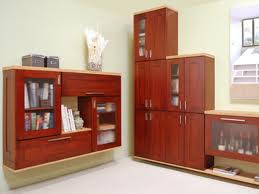 Maple Wood
Maple wood has a dainty, even appearance that produces a smooth, spotless look when stained. It is very popular for its strong resistance to shock. Another feature of maple wood is its durability with a curly, wavy or straight grain. Compared to other wood material like cedar and cherry, maple wood can be refinished to look like softwoods and hardwoods. Maple wood is great choice of wood to make rustic maple kitchen cabinets for airy or dramatic kitchen with duskier finishes.
Pine Wood
Using pine wood in making rustic pine kitchen cabinets is also a great choice in building your kitchen cabinetry or remodeling your old beat up kitchen cabinets. Pine wood is easily accessible because it is affordable. It is also carved or cut, accepts paint easily and appears to have creative knots. Pine wood has a light color yellow or white in nature.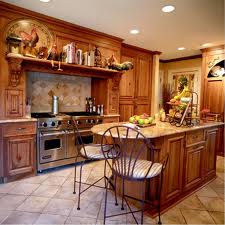 Things to Consider in Choosing the Wood
Types
Soft wood and hard wood are the two types of wood used to make furniture.
Color
The natural color of the wood can be altered. You can have light colored kitchen cabinets or dark colored hues using stains.
Grain
Wood has its natural texture, alignment and patterns appearing on its surface when you cut it midway. Each tree has distinct markers and grain patterns making it distinguished design. These lines and patterns can form straight, fine, spiral, cross, arch and curly.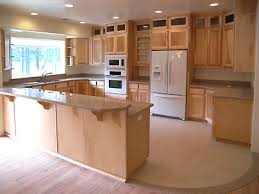 There are many shops offering different wood panels to complete your rustic kitchen cabinets and many professional services to install to your kitchen. Cabinets Direct is one of the many companies that specialize in furniture and cabinetry. Having a professional build your kitchen cabinets can be costly but it can also be a wise investment and worth of every penny. Professionally done houses are more durable and better planned than do it yourself remodeling and renovation of the house. Discounted kitchen cabinet materials and installation are often offered by various online websites.
A beautiful and organized house is important factor in raising a family. With the many options and designs in making a house, you are assured there is that style that suits you best and meets the needs of your family. Giving importance to the dining area should be a priority because it is the place where family bonding always happens.