Contemporary Kitchen Cabinets
A striking difference between contemporary kitchen cabinets and traditional kitchen cabinets is the simplicity in lines and panels. Traditional kitchen cabinets were invariably more ornate with more carving on wood. Even more recent traditional cabinets continue to emphasize certain designs such as rectangles or squares with chiseled and undulating borders. Though glass was used even in traditional kitchen cabinets, its presence was not noticeable because of the dark colored wood behind it. Effectively, the delicate seamless feeling that glass imparts was not there in traditional kitchen cabinets.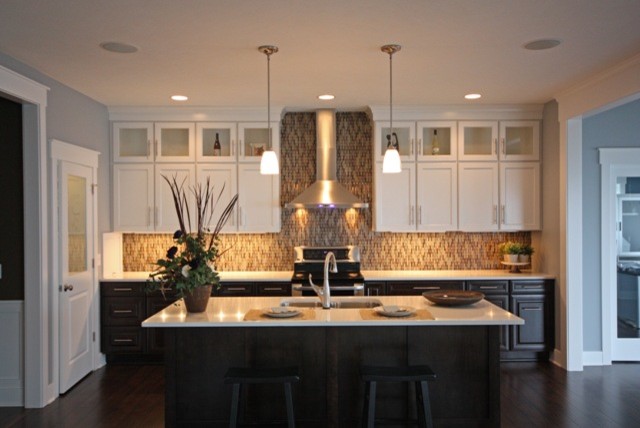 Contemporary kitchen cabinets have also made the kitchen look less cluttered. This spaciousness is obviously because of the blending of cabinet with the surroundings, and using lighter shades in these kitchens. Less ornate cabinets seem to form a continuous line or pattern with the rest of the kitchen, which makes the kitchen seem considerably larger than it actually is. Moreover, many of the modern contemporary kitchen cabinets are modular, that is, they can be removed and rearranged as needed. It is also possible to add matching cabinet of various dimensions as and when a person can afford to purchase such cabinets and as and when such additions become necessary. These cabinets are easier to clean as well. The shelves and drawers in these are planned carefully to ensure that nothing remains on kitchen countertops, and clutters the cooking area. For examples spices may be stored in easily accessible location. Another feature of contemporary kitchen cabinets design is its versatile usage. Unlike the kitchen cabinets of the past, these contemporary varieties let users change the shelves inside to suit their needs rather than stick to predefined shelf sizes.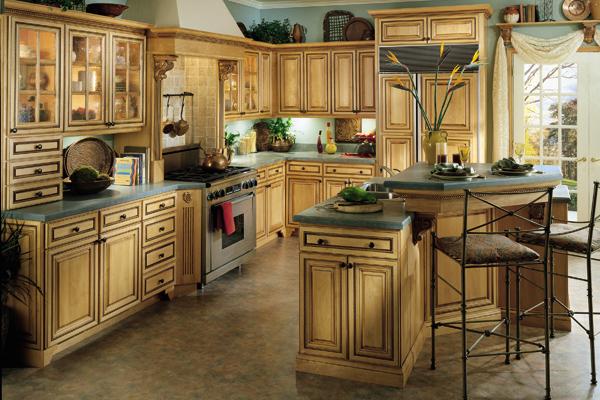 Types of contemporary kitchen cabinets
Contemporary kitchens make better use of light for enhancing the elegance of the room. This includes the advantage of light that is natural, and light that is included in the kitchen with the help of bulbs and designer lamps. Contemporary kitchens allow people to include artwork within their kitchen. Kitchen cabinets found in modern kitchens are broadly classified as
Closed cabinets, and

Open cabinets
By keeping the cabinets open, the kitchen feels more spacious. Such open cabinets may also be made from wires for placing vegetables or a combination of materials. This does not mean that closed cabinets are not around. However, these may not be given as much prominence as they were given in the past. The idea is to make them seem like part of the wall rather than anything on wall. Another aspect of modern kitchen cabinets is that they are accommodated in most unexpected parts of the kitchen. Sizes of homes, and consequently kitchens have come down over a period, due to affordability factor. This is the reason innovation is part of these modern cabinets.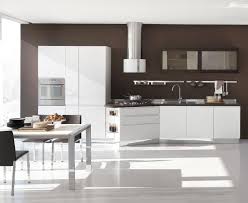 Materials, colors and other features
In the past, kitchen cabinets invariably meant, wood, coupled with glass. Over a period, wood laminates, particulate wood, and veneers replaced these materials partly because of cost factor, and partly because people do periodically like to remodel their homes, including kitchens. Spending substantial amounts on the wooden cabinets may mean wasting that much. Vinyl, PVC, Melamine and other plastic varieties are available for making these cabinets. Lacquer mdf is another popular material for making and painting kitchen cabinets. These may have contrasting colored geometric designs or may be of same colors as wood. Popular colors include gray, blue, beige, and white, apart from strikingly bright colors such as yellow, black, orange, many more. Simplicity is used to add elegance to the kitchen. Therefore, contemporary white kitchen cabinets are, more often than not, plain in design. At the most a thin band of black, gray, brown, chrome, or yellow may be embedded on this plain exterior of the cabinets. Other popular materials in modern times are steel and chrome plated metals. Cabinets made from such metallic materials are easier to clean, and maintain, though they can be rather expensive. The handles of the modern kitchen cabinets are usually affixed horizontally, unlike those of past, which were usually affixed vertically. Sliding opaque glass doors with etching may be used in any cabinet above which stores many things like crockery. The cabinets below the kitchen counters are the major storage units for crockery, cutlery, spoons, kitchen knives, kitchen appliances, and other vessels used in the kitchen.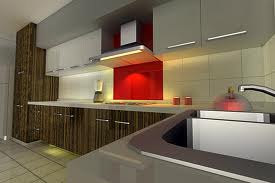 Contemporary kitchens are designed by fashion designers duly considering materials, dimensions of the kitchen, contemporary appliances, many more, apart from contemporary lifestyle, and requirements of family members. Since kitchen cabinets form integral part of such kitchens these too form part of the theme for the kitchen. Companies such as Cabinets Direct specialize in contemporary kitchen cabinets, apart from other cabinet varieties.