Functionally Elegant Modern Kitchen Cabinets
The best thing about modern kitchen cabinets is that they make the kitchen seem more spacious, without compromising on style. This effect is achieved partly by blending with the color scheme of the room, and partly by using flush cabinet doors. In contrast, traditional kitchen cabinets invariably had doors with some carving or designs on them, which disturbs the room's plainness, and makes it look crowded. Another difference between modern kitchen cabinets and traditional ones is the way these cabinets are located. Traditional kitchen cabinets were more often than not affixed randomly without considering whether they were encroaching on any room space. Unlike them, the contemporary kitchen cabinet unit itself is leveled as far as possible so that these cabinets do not seem to be protruding into the room's space. In general, these kitchen cabinets have a "no nonsense" look about them.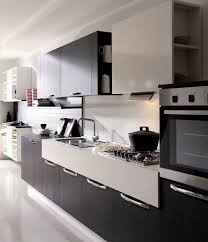 Commonly Used Materials
Stainless steel has entered the modern kitchen cabinets design, as have other chrome plated and powder coated metals. Glass has been elevated from its otherwise obscure position in kitchen interiors to a respectable level. Traditionally favored material, i.e., wood is usually substituted by other contemporary materials such as plywood, plastics, particle boards, and veneers. The few contemporary wooden kitchen cabinets around conform to the modern appearance rather than the ornate look. A blend of materials such as stainless steel and plywood may also be used in these cabinets.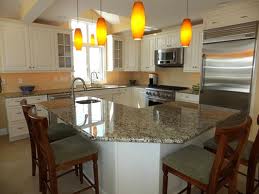 Color Selection
There are no restrictions on contemporary kitchen cabinets' colors. This is the reason, cabinets made from unusual colors such as yellow and red are not uncommon nowadays. Contemporary interior designers, however, tend to be partial towards colors such as white, gray, blue, and a combination of such colors. The reason could be the need to ensure that the cabinet colors and the colors of appliances in the kitchen such as refrigerator, blender, and cooking range among others , blend. This does explain the existence of large range of modern white kitchen cabinets. It is also not surprising to find such white colored kitchen cabinets adjacent to a recess that is painted in dark color, but has a few shelves in it for placing spices in accessible position. The attempt is to make the kitchen appear less cluttered, and tidy with permutations and combinations of such colors. White lines also blend easily with the stainless steel color of oven, and stainless steel kitchen sink.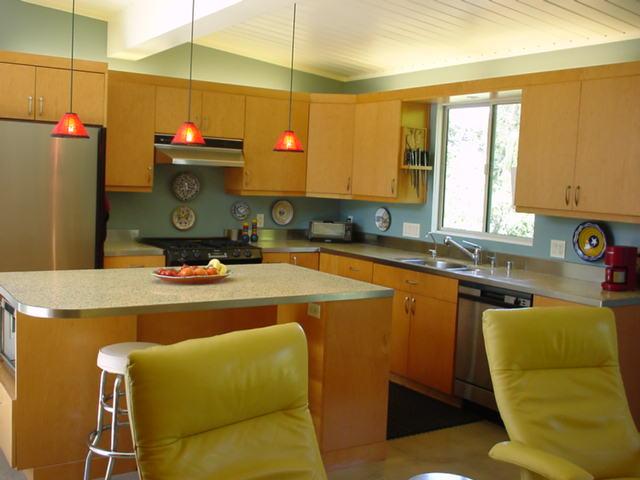 The Available Designs
Apart from doing away with carving on wood, modern interior decorators have also improved the way these kitchen cabinets are attached. In many of the traditional kitchen cabinets, hinges can be seen from outside. These have completely gone inside now or at the worst, they are beautifully camouflaged to give a seamless appearance. The knobs and handles found on traditional cabinets have been replaced by horizontal or vertical handles. These are easy to clean flat or cylindrical varieties, without any ornate feature. Moreover, modern kitchen cabinets are laid out in a striking pattern as far as possible so that such handles add to their beauty. Heights and widths of these cabinets have been experimented with. Conventionally, neither did kitchen cabinets have considerably wide doors and shelves, nor were they as high as the entire kitchen cabinet unit. But the modern counterparts of such traditional kitchen cabinets can be wider and taller. A few of the modern kitchen cabinets are self closing varieties as well.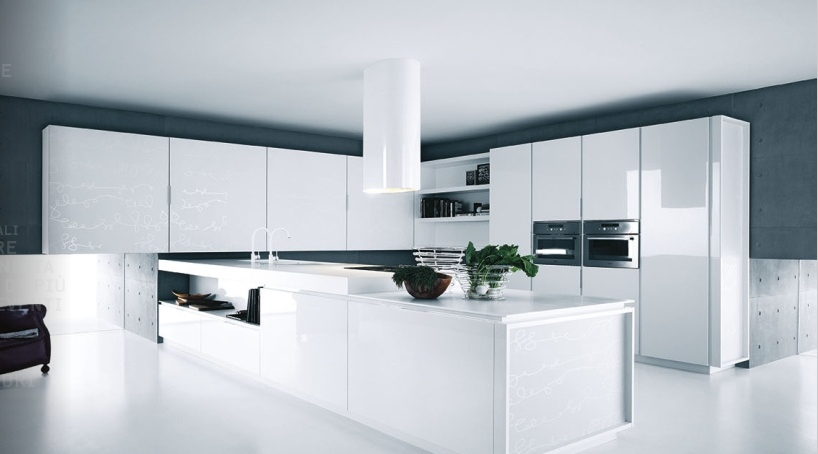 Functionality and Starkness
These stark contemporary cabinets for kitchen are also well planned internally. There is flexibility in their shelves allowing for storage of different types of things and appliances used in kitchen. Effectively, it is up to the user to define the distance between two shelves or distance between the shelf and the upper end of the cabinet. Likewise, drawers for spoons, napkins, and other tools used in the kitchen are preplanned, making it easier to locate such things. There are mid century modern kitchen cabinet range as well. This may have open variety of cabinet for storing wine. Such kitchen cabinet range usually does not include many wall mounted units. Outdoor light often plays an important role in mid century modern kitchen cabinets. Since the cabinets are at lower level, due care is taken to ensure that people can see what is there in these cabinets.
Kitchens have grown smaller, whereas variety of appliances has increased. Certain level of ingenuity is needed for making people comfortable in smaller kitchens. It is also imperative that kitchen cabinets can hold the wherewithal, apart from looking attractive. This sure is a tall order, but Cabinets Direct offers all this and much more.