Getting That Timeless Kitchen Aura with White Cabinets
Classic and timeless, these happen to be the most famous descriptions bestowed upon white cabinets. The reason why: they suit virtually any kind of home style and theme. Add to that the fact that white kitchen cabinets allow more liberty to playing with a long list of colors and tones on home fixtures, walls, and flooring.
If you are contemplating the thought of having new cabinets installed or you're only after changing the colors of your old ones, then think of themes or that appeal to you. There are several options you can go with ranging from casual and clean to contemporary and cosy, to country style to sleek modern. You can even try experimenting a bit with the texture of your cabinets. For instance, making imperfections can turn plain, regular cabinets into impressive pieces of furniture.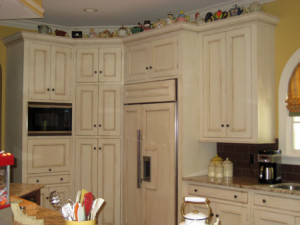 Antique White Cabinets
Rather than settling with the simplest white paint color right away, try thinking of creating textures, like glazed or distressed white instead. Distressing the cabinets requires only a few things to do; scratching them mildly and banging them upright after you've coated them white. If you have natural wood cabinets, the best way to showing them through is by not applying a base paint coat. Just do the white paint coating process, and then leave the cabinets for around twelve hours to dry. To even out the paint job on the handles, use sandpaper. You can also use that sandpaper to rounding off the sharp edges of the cabinets.
When creating dents and deep scratches on the white cabinets, you can use a key or a hammer. Once done with the distressing part, proceed with varnishing so as to give the wood and the newly applied paint long-lasting protection. If done precisely, a stunning, authentic look for your cabinets can be grasped. The best part: you did it yourself.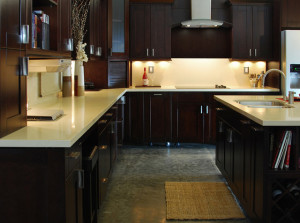 White Kitchen Cabinet Makers
You are always free to go with ordering new cabinets from any manufacturers that does business online, for as long as you have enough budgets for it. While there are several stores available, you might want to check Cabinets Direct. They keep themselves abreast with the latest themes, designs, and styles so that they can set out modern choices on the platter for their clients. White cabinet options are not an exception to that. Nonetheless, pick white storage cabinets where functionality and aesthetic magnificence come together in the most likeable fashion.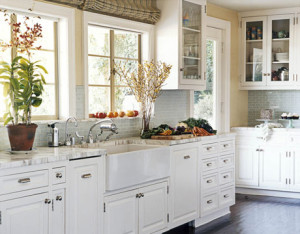 Coloring Techniques to Follow
Creativity is important in the process of redesigning your kitchen. White colored cabinets may be the simplest choice available, but you can do some improvising and you will be surprised by the seemingly endless combinations that can be put up. You can combine the cabinets with black marble countertops and a few other black furniture pieces like chairs or stools, and black appliances. The reason why you should go with this approach: Black and white designs can make a rather formal atmosphere within the kitchen area.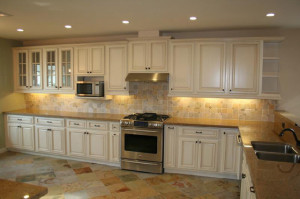 Additional Tips to Beautify the Area around White Cabinets
In order to get the best results, try coating your kitchen walls with light colors like rose pink or mint green. If your kitchen has an Italian style, then applying warmer hues would be the perfect way around it. The colors recommended would be almond and sand. If you are able to follow these easy tips well, it wouldn't be impossible to get a new and brighter kitchen area that would be pleasing to the eyes of your family. By then, your kitchen experience will never be the same – it is better than you have ever had.