Wall Cabinets for a Fully Operational Storage System at Home
Whether big or small, either way, a home is always bounded by a limit. With that in mind, it is important to know how to make the most out of the space you have and one of the most brilliant means for that would be through the installation of wall cabinets.
A vital type of cabinetry
Wall cabinets happen to be among the most significant kind of storage space in the home. These cabinets walk the lines of style, functionality and wise space usage. They can be put up in any part of the home – bathroom, kitchen, garage and some would even have them on the bedrooms. Wherever they are installed, one thing is for sure: They make better alternatives to avoid the clutter.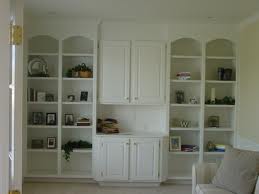 Wall cabinet designs to flaunt your collections
When all else fails, a wall cabinet won't in terms of displaying your exquisite collections, like porcelain figurines, vintage line of action figures, a family of Barbie Dolls, mini artefacts from the Egyptians or pretty much any antiquity that you have in possession or contemplating to buy for decorative purposes. In this case – where you get to exhibit your tiny treasures to guests or just to please your beauty ravening eyes – a wall cabinet with push-to-open or slide mirror doors should do the trick.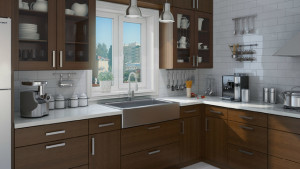 The bathroom is always the smallest room in the home, yet it perpetually goes fully active on a day-to-day basis. For a small space, it is also the one that takes in a lot of clutter. Of course, the bathroom should have a complete set of your bathing and other hygienic needs and bathroom cabinets in the wall help as a great additional space to cover, protect and adequately store all of these items. One of the most advised kinds of wall mounted bathroom cabinet would be the arch type that features two wood-framed mirror door panels, two to three open storage platforms and a hanging place beneath for bath and face towels.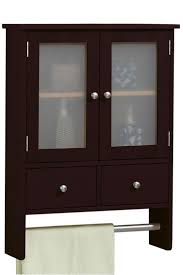 Wall units make a great addition in the kitchen place. At times, it is just disturbing to see the knife sets by the countertop together with the plates and other kitchen and dining essentials. Even if they are well-organized, it is still better to clear off the coast, allowing for a better ambiance that gives a better feeling of freedom and breathability. Furthermore, a wall cabinet unit installed in the kitchen can store a lot of your kitchen and dining utilities categorically with the many partitions it is made with. All you have to take in your sight then would be the ovens, stovetops and other cooking appliances that, of course, cannot be put inside the wall cabinet unit.
Unlike other wall cabinetsin the home, the ones specialized for the garage have more elements incorporated. And they are as follows:
Convertible racks
Standard heavy duty worktable or bench
Detachable legs made for additional strength
Compartments for an assortment of tools
More ideas
It is considerably the best option to choose for an arsenal of tools for some serious garage work. You can also boost the design for absolute functionality by having a professional multi-hook racks where you can hang mops, brooms, jackets, hats, wrench and other garage essentials. You can even have the wall cabinets specialized for sporting equipment.
Wall cabinet units are of evident exceptional value, especially when you buy them from trusted stores like Cabinets Direct. With the many features these cabinets can enlist for space saving and efficient content protecting purposes, they are totally worth every cent.